We shared our last home with my In-Laws and looked after them for the last 20 years. We also lived in the basement! It was a dark basement, not your modern above ground style ones...no this was the cave style. We had it decorated quite nicely and changed it up a few times while we were there but nothing made it bright!
So when we moved and I got BIG windows and everything is lovely and bright I knew I wanted to reflect that light...and I was going to have a bright guest room with lots of fluffy cushions on the bed. As soon as I saw the sheets I grabbed them, same with the pillows...I know exactly what I wanted...not totally white but definitely the over all effect was white and bright...and I knew also that I wanted white furniture.
Welcome to the guest room...
I knew I had achieved what I was after (a welcoming comfy guest room) when I showed my friend Collen the room and she SQUEEEEEEed and said she just wanted to move in and stay! LOL My plan is to paint the walls a very very soft gray/white in the not too distant future when funds allow again!
All the pillows (except the white pillow shams) and bedding is from HomeSense and Winners (here in Vancouver and the little black one is from Toronto when I visited my sister). I think these are sister stores to TJMaxx in the States.

My favourites by far are the white ones with the shabby chic roses on them..lovely soft texture.

I found these accent lights in Ikea
The artwork for the walls is from my Daughter-In-Law Christina (aka Teeny...because she is)
The quilt & Pillow Shams I brought back from Ireland In February and the day before yesterday I saw the EXACT same one at a store near here..LOL! But I love it and again it adds texture.

The lights by the bed I also found at HomeSense. The local HomeSense is about 5 minutes from our new house  and right by the grocery store so I am ALWAYS in there...so I know what is new and as soon as I see something I like I nab it....I can always take it back but if I hesitate...it's gone! Richard was with me when I saw these lamps...right at the entrance of the store. He was not sure about them but I KNEW I wanted them! The are solid and heavy and I think they fit the room and add a nice element to all the floofyness happening on the bed.
What do you think?
The reason I decided to show you the 'white' room today is because I was reading Donna's blog "Funky Junk Interiors" and she was showcasing her love of all things white because she was linking up to a blog in Europe (New to me) "Songbird" that was hosting a giveaway...and we all love a chance to win something cute right? (You can too...)
Around the house I have a few more things that are white
The beautiful vintage birdcage our friend's gave us

and the iconic white Ikea Sofas

The throw and the cushions are also Ikea. I don't want to show too much of this room until I have some woodwork done...in the not too distant future I hope. (Yes white...lol)
That's it..I'll link up to Songbird and you can hop over and visit all the white loveliness and enter to win too
and Donna at Funky Junk...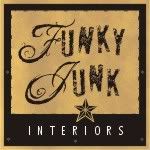 Thanks for visiting...
Sue